OBP: Sophie Raoufi https://doi.org/10.11647/OBP.0173.0026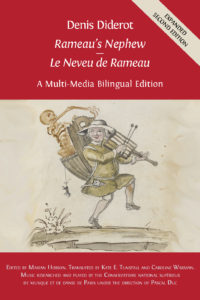 Our award winning book, Denis Diderot 'Rameau's Nephew' – 'Le Neveu de Rameau', winner of the British Society of Eighteenth-Century Studies' 2015 Prize for Digital Publication, has been re-issued as an enhanced bilingual edition.
The new interactive edition now includes the fully interactive French test available alongside its translation, as well as embedded audio files of the music mentioned in Diderot's work, over 100 colour illustrations and additional online resources.
Probably completed in 1772-73, Denis Diderot's Rameau's Nephew fascinated Goethe, Hegel, Engels and Freud in turn, achieving a literary-philosophical status that no other work by Diderot shares. This interactive, multi-media and bilingual edition offers a brand new translation of Diderot's famous dialogue, and it also gives the reader much more. Portraits and biographies of the numerous individuals mentioned in the text, from minor actresses to senior government officials, enable the reader to see the people Diderot describes, and provide a window onto the complex social and political context that forms the backdrop to the dialogue. Links to musical pieces specially selected by Pascal Duc and performed by students of the Conservatoire national supérieur de musique et de danse de Paris, illuminate the wider musical context of the work, enlarging it far beyond its now widely understood relation to opéra comique.
To read the blog post about the first edition of this book, please click here.
Please find a free-to-read version of this new edition here: http://www.openbookpublishers.com/product/498/denis-diderot-rameaus-nephew—-le-neveu-de-rameau–a-multi-media-bilingual-edition
Sophie Raoufi received an LL.B in Law in 2015 from the University of Bristol, specialising in International Commercial Law and Private Family Law. After graduating, she lived and studied in Montreal, before joining Open Book Publishers in January 2016.
Latest posts by Sophie Raoufi (see all)