OBP: Lucy Barnes https://orcid.org/0000-0002-1425-6985 https://doi.org/10.11647/OBP.0173.0063
This is part of a three-part series of blogs to celebrate the publication of our hundredth book. To read the first part, click here. To read the final part, click here.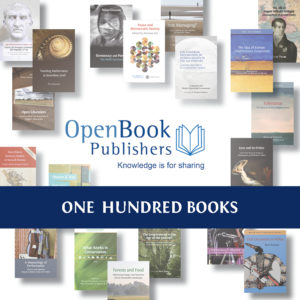 A Global Outlook: Access for Everybody
Why Are We Needed?
Most people in the developing world never own a book. Even in developed countries, the prohibitive price of textbooks and academic titles hinders education, eating into shrinking library budgets and also making it less likely that individuals can afford to buy academic books. In developing countries the situation is even more critical: economic factors combine with lack of infrastructure to restrict access to printed textbooks and university-level titles.
Globally, there are more people enrolling in courses of study than ever before; more people engaging with research and ideas than ever before; more people using digital technology to discover information than ever before. By changing the nature of the academic book, we want to enable everyone to access high-quality textbooks and peer-reviewed research, regardless of income. With the power of digital Open Access publishing, we can make this happen. Continue reading →