OBP: Sophie Raoufi https://doi.org/10.11647/OBP.0173.0024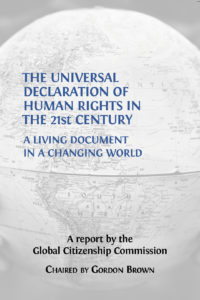 We're thrilled to announce that our latest title The Universal Declaration of Human Rights in the 21st Century: A Living Document in a Changing World was launched on April 18th at the United Nations Headquarters in New York. The report was presented by former British Prime Minister Gordon Brown to the UN Secretary-General Ban Ki-moon, and breaks new ground for human rights in our changing world. This report by the Global Citizenship Commission (GCC) unites global leaders in a call for urgent reform to the human rights architecture of the UN, and explores what it means to be a global citizen in modern society.
The book can be accessed for free here: http://www.openbookpublishers.com/product/467/the-universal-declaration-of-human-rights-in-the-21st-century
Returning to the 1948 Universal Declaration of Human Rights, this report is published amidst global upheaval. It pays particular attention to the plight of refugees and children in our time.
The current refugee crisis highlights the need for stable and effective human rights laws to treat all people equally. The Universal Declaration of Human Rights in the 21st Century urges world leaders to honour their promises to refugees, and recommends that the international community recognise that asylum seekers have three rights that must not be forgotten:
a right to security in transit;
a right to a fair and responsible process at borders;
a right to good reason for refusal to allow entrance of settlement.
These three rights in particular ensure that refugees are treated with respect and dignity at all times, which is a fundamental principle of human rights. This report reminds us that we have to work together, as a society, to uphold human rights and to continue to make progress to eradicate human rights violations across the world.
This innovative report also recommends the creation of a Children's Court at an international level and that the UN Security Council should convene a Children's Council to provide an annual review on violation of children's rights. These recommendations go further than any previous report, and focus on an area that has not received enough attention: children's rights. The Global Citizenship Commission hopes that children will now be afforded the protections that they deserve – and need – to become equal in society.
The GCC was convened under the auspices of the Global Institute of Advanced Study at New York University. The Commissioners decided to publish the report in Open Access so that as many people as possible could read and benefit from the recommendations. It is only through greater transparency and education that human rights can develop so that everyone can enjoy the protections, benefits, and freedoms that they bring.
Editor of the volume and convenor of the GCC, Gordon Brown has said:
Since 1948, the Universal Human Rights Declaration has stood as a beacon and standard for a better world. Yet at a time of enormous global change, a refugee crisis bigger than that which accompanied the ending of the Second World War, the increasing twin threats of terrorism and extremism, and the appalling abuse and suffering of women and children in conflict and other situations, we need to renew and revitalize our efforts to realize the rights articulated in the Declaration.
Commissioner Jeremy Waldron added:
This report refreshes our understanding of the Universal Declaration of Human Rights, which has dominated human rights thinking since 1948. It reaffirms the fundamental commitments of the UDHR; it proposes ways in which those commitments can be carried forward to meet new challenges. Above all, it identifies the UDHR as a pillar of our global ethics and our global responsibilities.
Members of the Global Citizenship Commission
Name
Title
K. Anthony Appiah
Professor of Philosophy and Law, New York University
Laurel Bellows
Principal, The Bellows Law Group, P.C. & Immediate Past President, American Bar Association
Nicolas Berggruen
Chairman, Berggruen Holdings
Paul Boghossian
Silver Professor of Philosophy, New York University
Gordon Brown
United Nations Special Envoy for Global Education; Former Prime Minister of the United Kingdom
Craig Calhoun
Director, London School of Economics and Political Science
Wang Chenguang
Professor of Law, Tsinghua University
Mohamed ElBaradei
Director General Emeritus, International Atomic Energy Agency
Fonna Forman
Professor of Political Theory and Founding Director of the Center on Global Justice at the University of California, San Diego
Andrew Forrest
Philanthropist; Non-executive Chairman, Fortescue Metals Group
Ronald George
27th Chief Justice of California (retired)
Asma Jahangir
President, Supreme Court Bar Association of Pakistan

Chairperson, Human Rights Commission of Pakistan

His Excellency John Kufuor
Former President of Ghana
Graça Machel
Political Human Rights Activist
Catherine O'Regan
Former Justice, South African Constitutional Court (1994-2009)
Ricken Patel
Executive Director, Avaaz
Emma Rothschild
Jeremy and Jane Knowles Professor of History; Director, Center for History and Economics, Harvard University
Robert Rubin
Co-Chairman, Council on Foreign Relations; Former United States Secretary of the Treasury
Jonathan Sacks
Former Chief Rabbi, United Kingdom
Kailash Satyarthi
Chairperson, Global March Against Child Labour
Klaus Schwab
Founder and Executive Chairman, World Economic Forum
Amartya Sen
Thomas W. Lamont University Professor; Professor of Economics and Philosophy, Harvard University
John Sexton
President Emeritus, New York University
Robert Shrum
Carmen H. and Louis Warschaw Chair in Practical Politics, University of Southern California
Jeremy Waldron
University Professor, New York University School of Law; Chichele Professor of Social & Political Theory, All Souls College, Oxford University
Joseph Weiler
President, European University Institute
Rowan Williams
Former Archbishop of Canterbury
Sophie Raoufi received an LL.B in Law in 2015 from the University of Bristol, specialising in International Commercial Law and Private Family Law. After graduating, she lived and studied in Montreal, before joining Open Book Publishers in January 2016.
Latest posts by Sophie Raoufi (see all)