Burst the Frames: Open Access at the Dissertation Level
by Anke Finger and Virginia Kuhn, editors of Shaping the Digital Dissertation: Knowledge Production the Arts and Humanities.
Higher education, like so many industry sectors and areas of public life, has been radically disrupted by the COVID pandemic. Colleges and universities are experiencing substantial shifts due to changing public opinion and support and a studentship that is increasingly less traditional and less homogenous. Even prior to COVID most institutions were grappling with the urgent need to diversify faculty ranks, and, given the concomitant visibility of racial, economic and political tensions across much of the globe, higher education was, presumably, fighting for its very existence. The pandemic exposed even more of what was at stake. Not only did the move to online teaching highlight the moribund practices of much educational technological infrastructure, but the interactions between teachers and students, as well as the accessibility and appropriateness of curricular materials necessarily came under scrutiny.
Enter open access and the digitization of much of academic production, enter creativity and experimentation, enter collaboration and dialogue. The outdated models of teaching and scholarship have been questioned—if by necessity—such that the onus is on institutions now to learn from and integrate those lessons derived from years of online teaching, engaged scholarship, and the sort of rapid change that is, indeed, possible. Such change is particularly essential at the level of apprentice scholarship that could well turn into an incubator for radical, public-facing scholarship in the 21st century: born-digital dissertations.
Few know that born-digital dissertations have been around for more than two decades and are exponentially sought after by a driven, savvy graduate student body. While some book publishers have embraced multimodal, hybrid, and e-versions of traditional linear text on paper, the academy has remained skeptical of, and even openly hostile to, scholarly innovation at the dissertating level and beyond. There is an issue: one of the most thorny aspects of open access and born-digital media lies in its evaluative strategies or rather, the lack of evaluative strategies. Assessing scholarship that uses unique forms to express unique ideas and findings is tricky in that few models exist or are accessible in full. But there is a great need for this evaluative aspect since there is a misguided notion that what is put online is 'published' and, the concomitant assumption then, is that anyone can pretty much publish anything digitally.
Not so. In fact, although blind peer review has come under fire with regard to its relative 'blindness', the jurying aspect of a publisher is one of the activities that academia does well: having peers review academic publications helps to ensure their scholarly depth and situatedness in current research dialogues. The problem, with regard to digital, multimodal publications is that most senior scholars - and that includes many PhD advisors - are new to digital scholarship and untrained in multimodal literacy. As Cheryl Ball demonstrates in the chart below, created with Storyspace for her dissertation work, multiple paths of reading and interpretation become possible, breaking—at a very basic level—the teleology of any printed text.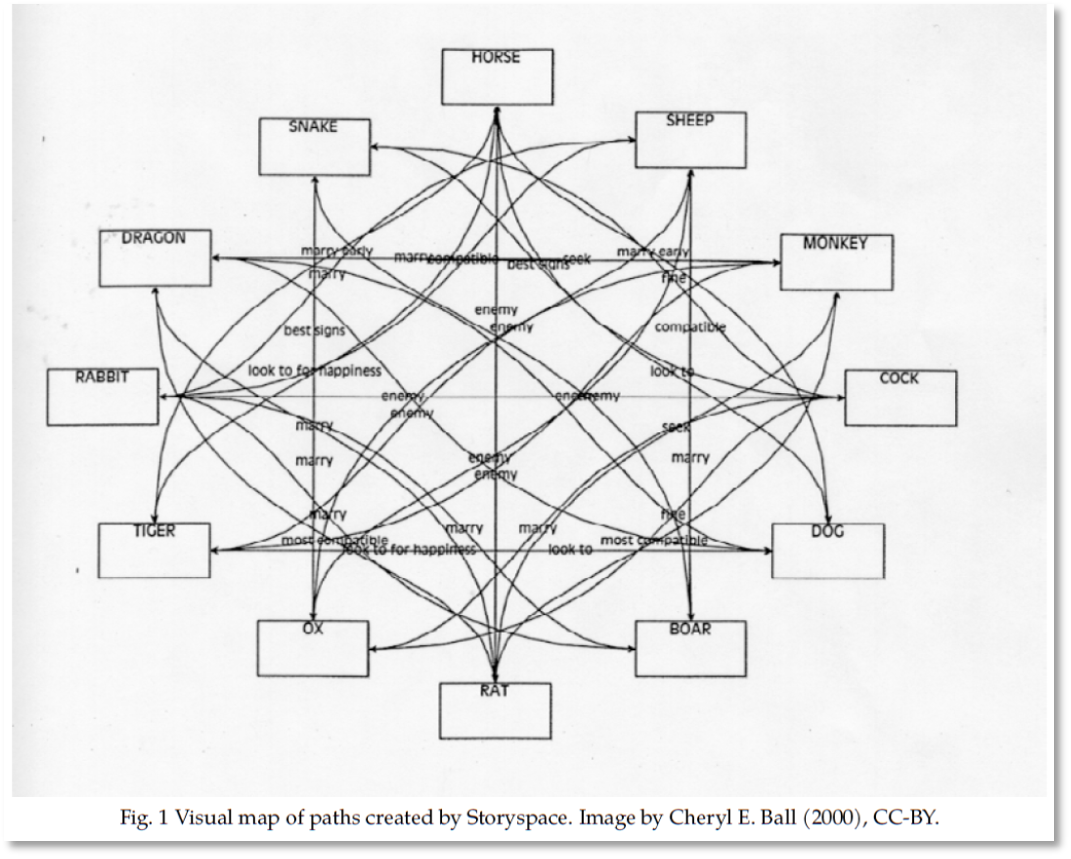 The screenshots from our other examples below, case studies from digital dissertators all, further demonstrate how born-digital dissertations challenge and innovate the traditional format of dissertations, in terms of content, accessibility, dialogue, sustainability and creativity.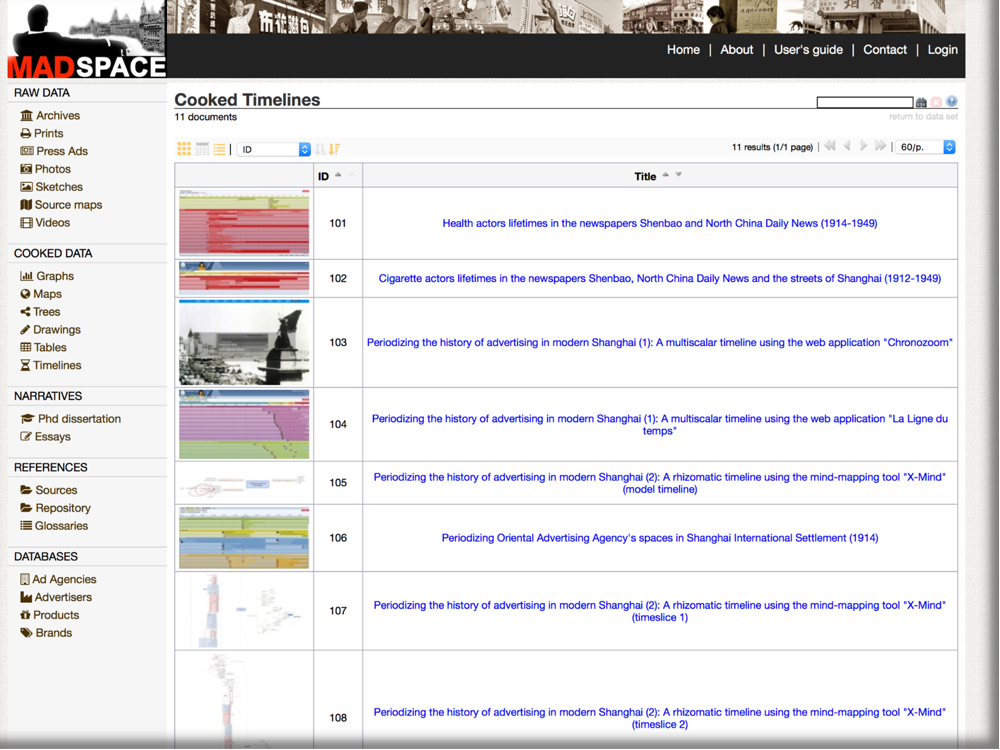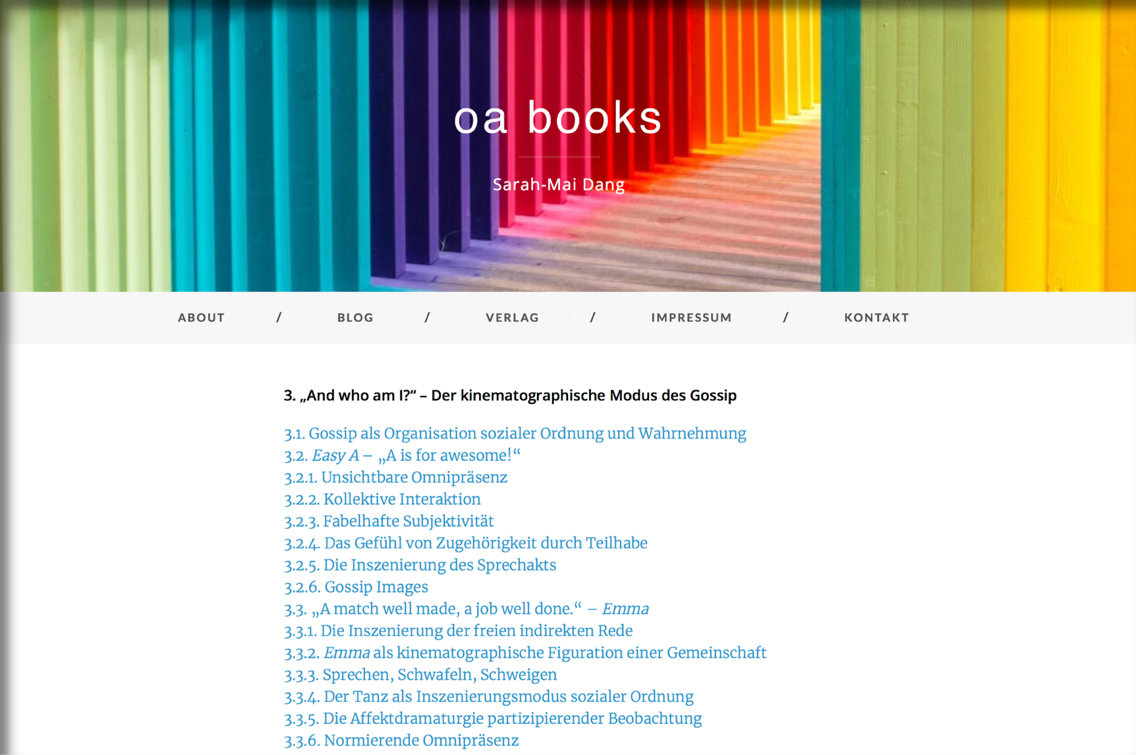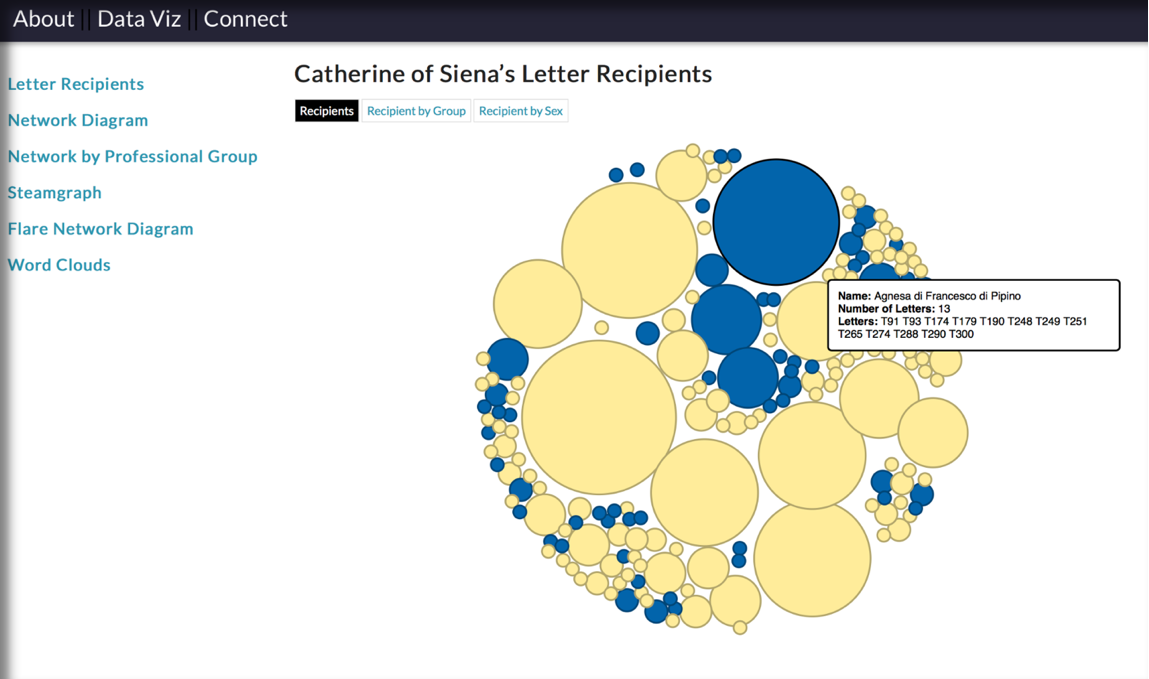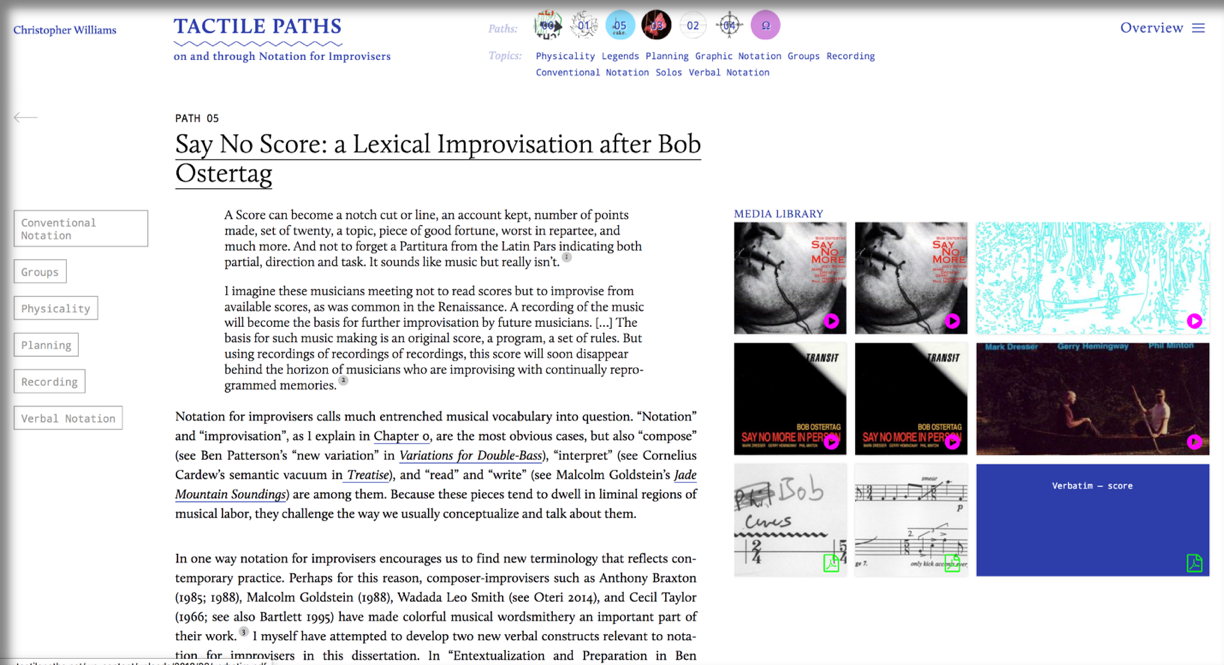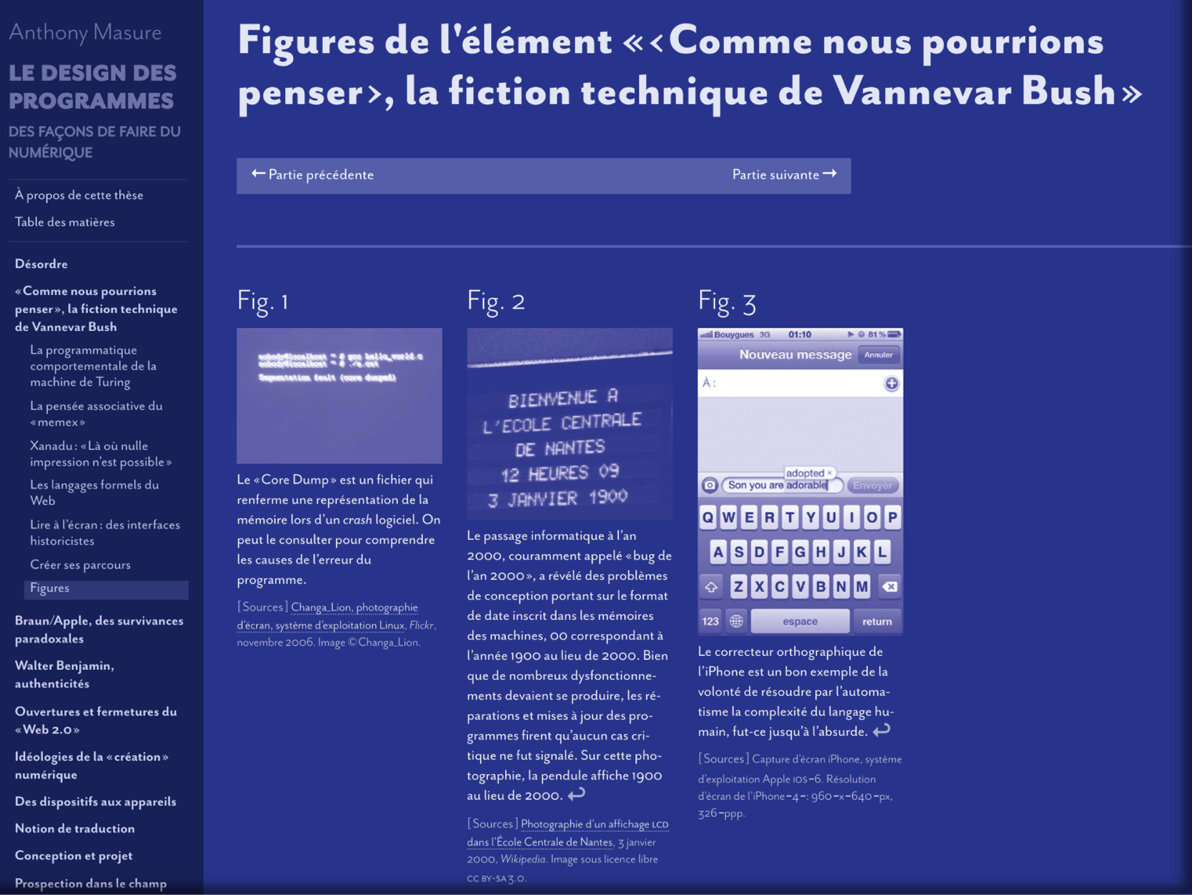 All of the examples above speak to each dissertation project's accessibility (they are available online), their creativity (they present research, discussion, and analysis in a variety of modes, including text, datasets, data visualization, audio, film), they seek to engage with their audiences, not just with their dissertation committee.
Why are these more public texts so important? First, they represent original research at both the conceptual and formal levels. In order to advance any field, basic assumptions are necessarily challenged and, in the case of the arts and humanities, the form of the work can be as important as its content. Also, however, these more public texts provide the opportunity to reach out and engage—and maybe, just maybe, this would increase public support for higher education. The onus is, in part, on us. The public derision of some rather specialized research has perhaps made us shy of showing our work to the public. The complexity of high theory, which infuses much of our research, does not lend itself to the soundbyte world of social media. Increasingly, many of us who explore issues of race, class and gender, for example, cannot bear to turn into the type of TV pundit who packages thorny issues into irritably short-sighted, twitter-worthy quotes. Some colleagues in academia are taking out professional liability insurance should they face the kinds of shitstorms social media can generate when work gets misquoted or worse.
However, basic research, including work on dicey issues, is absolutely necessary, and it is absolutely necessary to involve the public in much of this research. Digital scholarship, starting with born-digital dissertations, is an important step in facilitating this connection. If we lose that relationship completely, if distrust on both sides, the academic and the public, is allowed to harden, we lose a crucially important public good: creating dialogue and knowledge together.
Anke Finger is Professor of German and Media Studies and Comparative Literary and Cultural Studies at the University of Connecticut. She has published widely in Modernism, Media Studies, and Intercultural Communication. She is the co-founder and co-editor (2005-2015) of the multilingual, peer reviewed, open access journal Flusser Studies. From 2016 to 2019 Anke Finger served as the inaugural director of the Digital Humanities and Media Studies Initiative at the Humanities Institute; she also co-founded the German Studies Association's Network on Digital Humanities and served as co-director from 2017-19. She founded the NEHC-DH network, affiliated with the New England Humanities Consortium; and she co-founded the CTDH network.
Virginia Kuhn is Professor of Cinema and Associate Director of the Institute for Multimedia Literacy in the Division of Media Arts + Practice at the University of Southern California's School of Cinematic Arts.  In 2005, she successfully defended one of the first born-digital dissertations in the United States, challenging archiving and copyright conventions. Kuhn recently published (with Vicki Callahan) an anthology titled Future Texts: Subversive Performance and Feminist Bodies (Parlor Press, 2016) and has edited three peer-reviewed digital anthologies:  'The Video Essay: An Emergent Taxonomy of Cinematic Writing', (The Cine-Files, 2017) with Vicki Callahan; MoMLA: From Panel to Gallery (Kairos, 2013) with Victor Vitanza; and From Gallery to Webtext: A Multimodal Anthology (Kairos, 2008) with Victor Vitanza.