Open Book Publishers - Winter Newsletter - February 2023
Welcome to our Winter Newsletter!  

We have information on our open Call for Proposals, updates including our Author Survey and our involvement with PALOMERA, new and forthcoming publications and latest reviews, interviews, features and blogs. There's lots to explore below, so dive in to find out more about what's been happening as well as our plans for the months ahead...  

Announcements
Authors' Survey

What Our Authors Say About Us
Open Book Publishers Joins the Open Book Collective
Open Book Publishers Joins Mastodon
COPIM: Reports and Updates
The OABN is working with PALOMERA!

Books, Readership and Content

Annual Readership by Measure Report
New Open Access Publications
Forthcoming Open Access Publications
New Blogs, Articles, and Interviews
Call for Proposals
Our New Library Membership: a year in review
Latest Reviews
---
Authors' Survey
​
We would like to ask for your feedback on the publishing process with us. We would also like to collect demographic data about our authors, editors, and contributors  to help us form a better picture of the communities we interact with – and the gaps in representation that need addressing. This data will remain private and the identities of those individuals who agree to participate will not be disclosed under any circumstance. If you are one of our authors, editors, or contributors please, click here to access the survey.

If you haven't published with us and want to find out more about what it's like, email Professor Caroline Warman (caroline.warman@Jesus.ox.ac.uk), author of The Atheist's Bible: Diderot's 'Éléments de physiologie' (2020) and translator of Denis Diderot 'Rameau's Nephew' – 'Le Neveu de Rameau': A Multi-Media Bilingual Edition (2nd ed., 2016) and Tolerance: The Beacon of the Enlightenment (2016).
---

What Our Authors Say About Us

Right from the start I felt that OBP was the right publisher for me. Not only because their books are freely available; not only because they make their publications available in various formats; not only because they make enriched publications possible; not only because they have a very professional attitude towards the whole production and PR process; etc. No, why I felt 'at home' with OBP is because of the personal contact, their engagement, their openness and inventiveness – in short, a perfect combination of professionalism and cordiality.

Marcel Cobussen, author of Engaging with Everyday Sounds
To read more testimonials from authors visit https://www.openbookpublishers.com/publish-with-us
---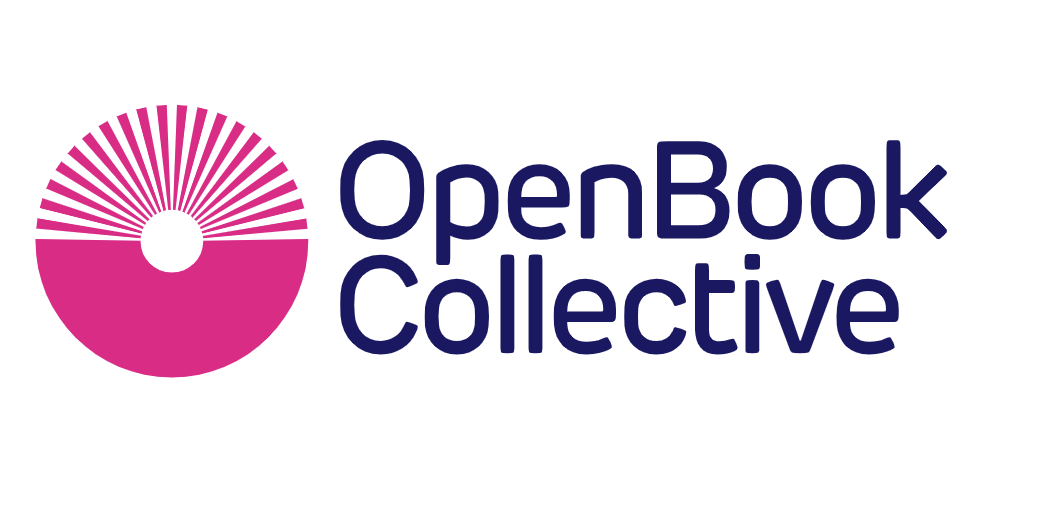 Open Book Publishers Joins the Open Book Collective
​
Open Book Publishers (OBP) is delighted to announce that we have joined the Open Book Collective (OBC).

The Open Book Collective brings together OA publishers, OA publishing service providers, libraries, and other research institutions to create a new, mutually supportive ecosystem for the thriving of OA book publishing. At the heart of the work of the Open Book Collective (OBC) is a new platform. This platform will make it far quicker and easier for libraries and others to financially support different OA publishers and service providers via membership offerings.

The Open Book Collective has been developed by the COPIM Project, an international partnership funded by Research England and Arcadia Fund. COPIM is building non-profit, community-owned infrastructure to support a resilient future for open access book publishing that enables smaller and more community-focused presses to thrive and multiply. Open Book Publishers is a leading member of the COPIM Project and has been involved in helping to build the Collective.

Read on to find out why we're joining the Collective and what this will mean for libraries (including our current Library Members), our authors and our readers.
---

Open Book Publishers Joins Mastodon

We are delighted to announce that we have created a Mastodon account for Open Book Publishers.

We're looking forward to meeting people and getting to know hcommons.social! We're excited to find out more about Mastodon as its own space.

You can follow us at https://hcommons.social/@OpenBookPublish
---
COPIM: Reports and Updates
​
How can I persuade my institution to support collective funding for open access books? (Part One) by Lucy Barnes and Tom Grady

How can I persuade my institution to support collective funding for open access books? (Part Two) by Lucy Barnes and Tom Grady

Open Access Week 2022: How to run a major international project with a mini carbon footprint by Livy Onalee Snyder and Lucy Barnes

A Community of Communities by Rebekka Kiesewetter

Computational Publishing Pilot Project. Introducing Our Partners and Communities by Janneke Adema

A workflow for Combinatorial Books by Janneke Adema, Simon Bowie, Gary Hall, and Rebekka Kiesewetter

Implementing a Workflow for Combinatorial Book by Simon Bowie, Gary Hall, and Rebekka Kiesewetter
---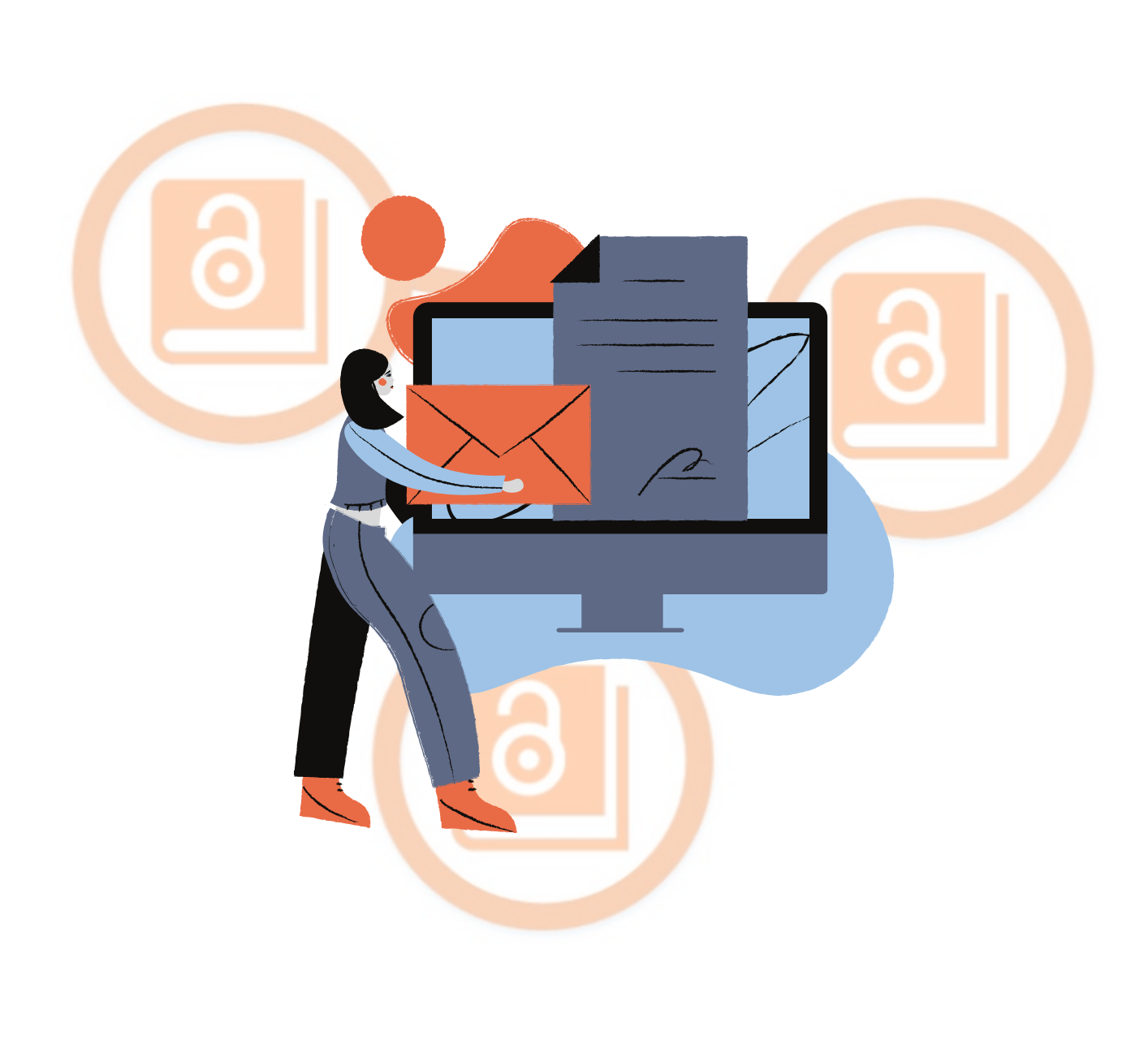 The OABN is working with PALOMERA!

The Open Access Books Network (OABN) is working with the PALOMERA project, a two-year initiative funded by HORIZON Europe that seeks to investigate why so few Open Access (OA) funder policies include OA books, and to provide actionable recommendations to change this. The OABN will host a PALOMERA series of events over the duration of the project that will give the OABN community the opportunity to engage with the project leaders and to feed back on the project's information-gathering, analysis, and recommendations. Keep an eye on the OABN blog or join the mailing list for news about forthcoming PALOMERA events and updates!
---
Annual Readership by Measure Report

We are proud to say this year, we have received 1,057,982 accesses from the various platforms listed in the graphic below, 36% more than in 2019 and 2% more than in 2020!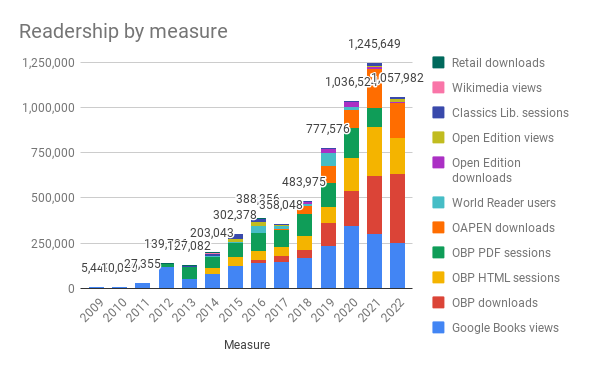 We are able to record different types of usage across certain platforms, which can tell us, for each platform: how much a book is being used there (according to the platform's own choice of measurement); in which formats; over time; where in the world it is being accessed from (in some cases); and to what extent it is being accessed from particular domains (which is valuable to our Library Members wishing to see how much their students and staff are taking advantage of the Membership).

However, please remember that this is by no means a complete picture. Our books can be downloaded from many sites where we don't receive any usage reports  and our geographical data is limited by certain platforms or individuals choosing to block the collection of such information (we specify on our maps the percentage of the book's total statistics for which we have geographical data). Once a book has been downloaded, we don't track how that file is used and shared (in this respect, download figures are similar to sales figures for hard copies and ebook editions).

To find our more about how we collect our readership visit https://www.openbookpublishers.com/open-software/readership-statistics

As always, thank you so much for accessing, reading and sharing our titles. It is thanks to the support shown by our readers, our member libraries and our authors that we can keep working towards a fairer publishing landscape!
---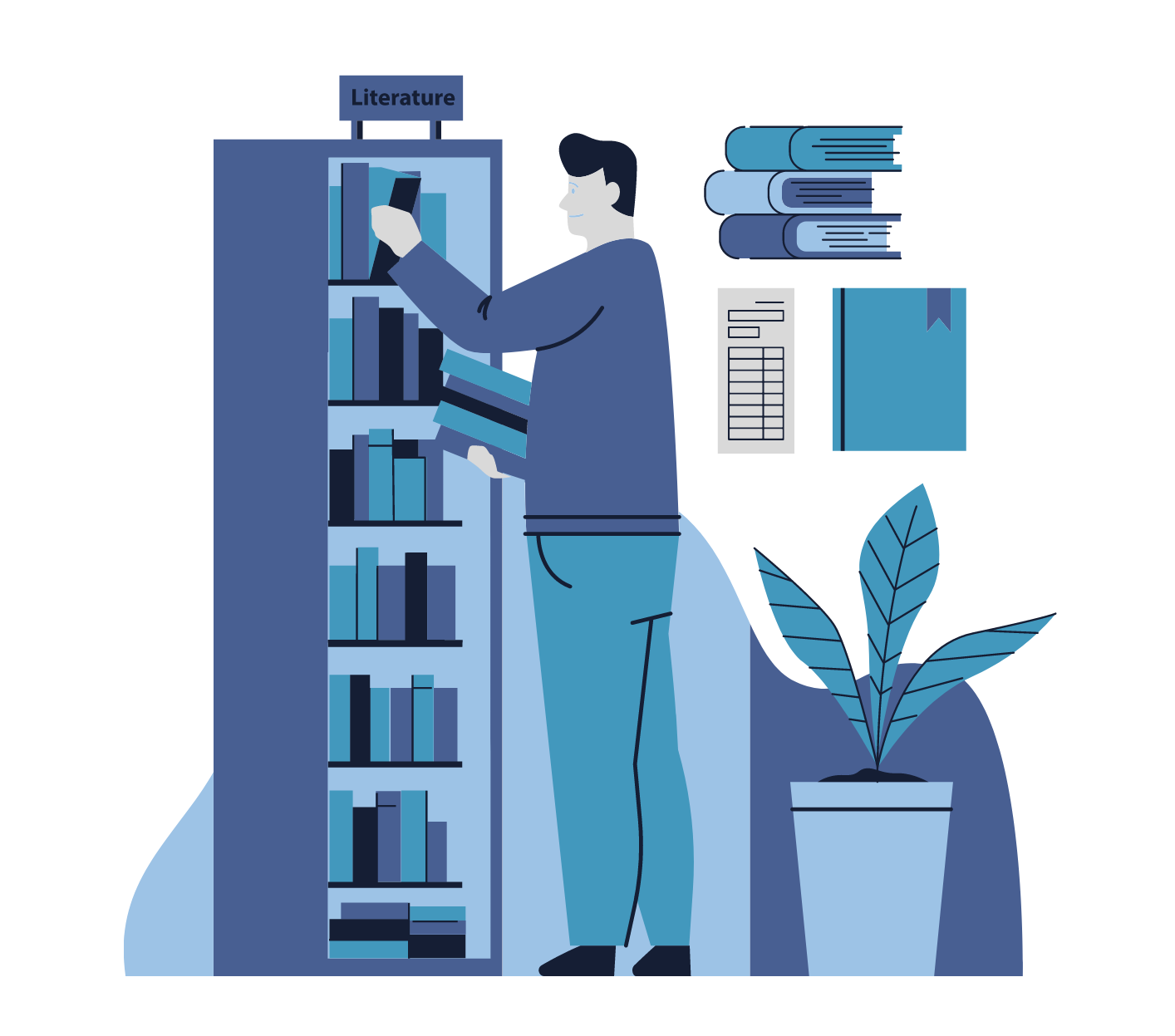 New Open Access Publications

These past two months we have released 4 new Open Access titles:

Reshaping Food Systems to improve Nutrition and Health in the Eastern Mediterranean Region by Ayoub Al-Jawaldeh and Alexa Meyer

This detailed and comprehensive study examines nutrition and health in the World Health Organization (WHO) Eastern Mediterranean Region, presenting the six game-changing food systems actions proposed by the WHO and the progress of their implementation in the region.

The Historical Depth of the Tiberian Reading Tradition of Biblical Hebrew by Aaron D. Hornkohl

This volume explores an underappreciated feature of the standard Tiberian Masoretic tradition of Biblical Hebrew, namely its composite nature. Focusing on cases of dissonance between the tradition's written (consonantal) and reading (vocalic) components, the study shows that the Tiberian spelling and pronunciation traditions, though related, interdependent, and largely in harmony, at numerous points reflect distinct oral realisations of the biblical text.

Dire Straits-Education Reforms: Ideology, Vested Interests and Evidence by Montserrat Gomendio and José Ignacio Wert

Responding to an 'educational emergency' generated largely by the difficulties of implementing education reforms, this book compares education policies around the world in order to understand what works where. To address the key question of why education reforms are so difficult, the authors take into account a broad range of relevant factors, such as governance, ideology, and stakeholder conflicts of interest, and their interactions with one another.

The European Experience: A Multi-Perspective History of Modern Europe, 1500–2000 by Jan Hansen, Jochen Hung, Jaroslav Ira, Judit Klement, Sylvain Lesage, Juan Luis Simal and Andrew Tompkins

The European Experience brings together the expertise of nearly a hundred historians from eight European universities to internationalise and diversify the study of modern European history, exploring a grand sweep of time from 1500 to 2000.

As always, these titles are freely available to read and download at www.openbookpublishers.com.
---

Forthcoming Open Access Publications
Folktales of Mayotte, an African Island by Lee Haring

The book uncovers the versatility and literary skills of oral narrators in a small African island. Relying on the researches of three French ethnographers who interviewed storytellers in the 1970s-80s, Lee Haring shows a once-colonised people using verbal art to preserve ancient values in the postcolonial world, when the island of Mayotte was transforming itself from a neglected colony to an overseas department of France.

Susan Isaacs: A Life Freeing the Minds of Children by Philip Graham

This revised and expanded edition of Susan Isaacs: A Life Freeing the Minds of Children by Philip Graham, provides a comprehensive biography of a highly influential educationist and psychoanalyst.  The book covers Isaacs' childhood through to the end of her life, making it of great interest to historians of British education and of psychoanalysis as well as to practicing early years teachers and psychoanalysts.

The Poetic Edda: A Dual-Language Edition by Edward Pettit

This book is an edition and translation of one of the most important and celebrated sources of Old Norse-Icelandic mythology and heroic legend, namely the medieval poems now known collectively as the Poetic Edda or Elder Edda.

Play in a Covid Frame: Everyday Pandemic Creativity in a Time of Isolation by Anna Beresin and Julia Bishop

During the international coronavirus lockdowns of 2020–2021, millions of children, youth, and adults found their usual play areas out of bounds and their friends out of reach. How did the pandemic restrict everyday play and how did the pandemic offer new spaces and new content? This unique collection of essays documents the ways in which communities around the world harnessed play within the limiting frame of Covid-19.

Introduction to Systems Biology: Workbook for Flipped-classroom Teaching by Thomas Sauter and Marco Albrecht

This book is an introduction to the language of systems biology, which is spoken among many disciplines, from biology to engineering. Authors Thomas Sauter and Marco Albrecht draw on a multidisciplinary background and evidence-based learning to facilitate the understanding of biochemical networks, metabolic modeling and system dynamics.


To find out more about this and other forthcoming titles visit: https://www.openbookpublishers.com/forthcoming
---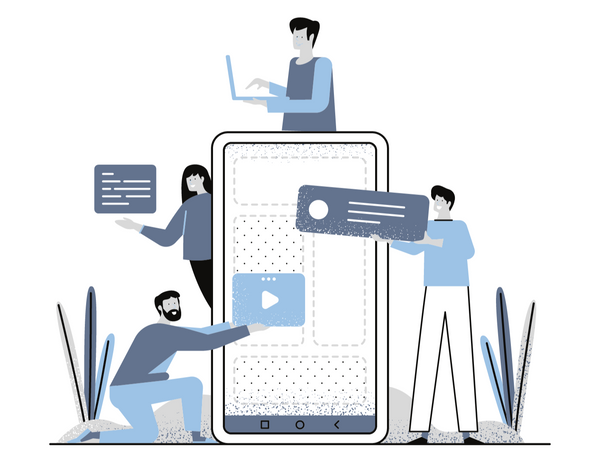 Blogs

Dire Straits-Education Reforms: Ideology, Vested Interests and Evidence by Montserrat Gomendio and José Ignacio Wert

Teaching European History in the 21st Century by Emma Johnson and Jochen Hung

Videos

Book Launch: 'Chance Encounters: A Bioethics for a Damaged Planet'

'Dire Straits-Education Reforms' - An Interview with Montserrat Gomendio and José Ignacio Wert

Articles

Towards a history education for the 21st Century: An interview with Dr. Jochen Hung

Resources

The audiovisual resources supplementing specific chapters and providing brief and accessible introductions to the key components of the filmmaking process created for our Open Access title Documentary Making for Digital Humanists are now available:

[video]Lesson 1: Getting Started
[video]Lesson 2: How to Get Resources for your Documentary
[video]Lesson 3: Choose your Camera and Equipment
[video]Lesson 4: Planning your Production
[video]Lesson 5: How to Capture Cinematic Footage
[video]Lesson 6: How to Use the Rule of Thirds to Create Cinematic Shots
[video]Lesson 7: How to Get Ready for an Interview
[video]Lesson 8: How to Film an Interview
[video]Lesson 9: A Step-by-Step Guide on Editing a Documentary in Adobe Premiere
[video]Lesson 10: How to Make a Documentary
---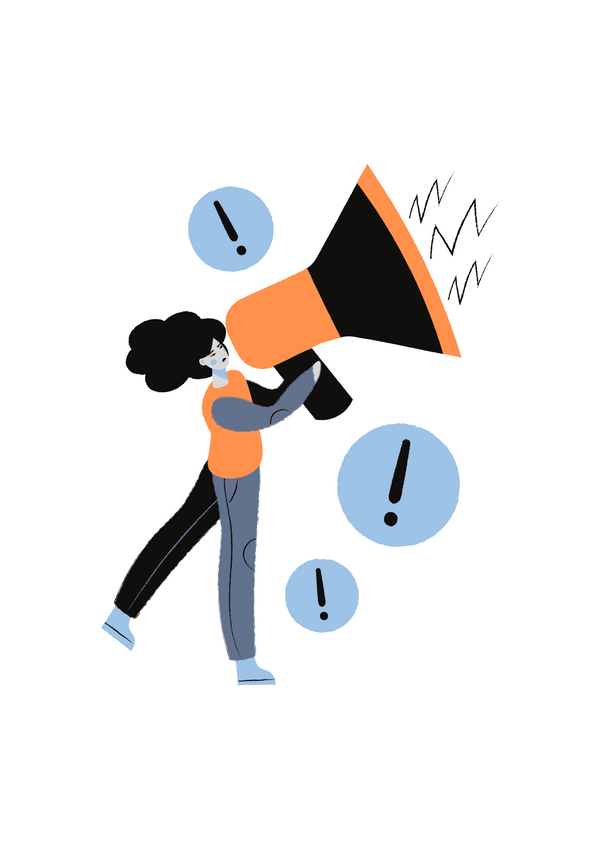 Call for Proposals


We have various Open Access series all of which are open for proposals, so feel free to get in touch if you or someone you know is interested in submitting a proposal!

Global Communications

Global Communications is a book series that looks beyond national borders to examine current transformations in public communication, journalism and media. Special focus is given on regions other than Western Europe and North America, which have received the bulk of scholarly attention until now.

St Andrews Studies in French History and Culture

St Andrews Studies in French History and Culture, a successful series published by the Centre for French History and Culture at the University of St Andrews since 2010 and now in collaboration with Open Book Publishers, aims to enhance scholarly understanding of the historical culture of the French-speaking world. This series covers the full span of historical themes relating to France: from political history, through military/naval, diplomatic, religious, social, financial, cultural and intellectual history, art and architectural history, to literary culture.

Studies on Mathematics Education and Society

This book series publishes high-quality monographs, edited volumes, handbooks and formally innovative books which explore the relationships between mathematics education and society. The series advances scholarship in mathematics education by bringing multiple disciplinary perspectives to the study of contemporary predicaments of the cultural, social, political, economic and ethical contexts of mathematics education in a range of different contexts around the globe.

The Global Qur'an

The Global Qur'an is a new book series that looks at Muslim engagement with the Qur'an in a global perspective. Scholars interested in publishing work in this series and submitting their monographs and/or edited collections should contact the General Editor, Johanna Pink. If you wish to submit a contribution, please read and download the submission guidelines here.

The Medieval Text Consortium Series

The Series is created by an association of leading scholars aimed at making works of medieval philosophy available to a wider audience. The Series' goal is to publish peer-reviewed texts across all of Western thought between antiquity and modernity, both in their original languages and in English translation. Find out more here.

Applied Theatre Praxis

This series publishes works of practitioner-researchers who use their rehearsal rooms as "labs"; spaces in which theories are generated and experimented with before being implemented in vulnerable contexts. Find out more here.

Digital Humanities

Overseen by an international board of experts, our Digital Humanities Series: Knowledge, Thought and Practice is dedicated to the exploration of these changes by scholars across disciplines. Books in this Series present cutting-edge research that investigate the links between the digital and other disciplines paving the ways for further investigations and applications that take advantage of new digital media to present knowledge in new ways. Proposals in any area of the Digital Humanities are invited. We welcome proposals for new books in this series. Please do not hesitate to contact us (a.tosi@openbookpublishers.com) if you would like to discuss a publishing proposal and ways we might work together to best realise it.
---
Our New Library Membership: a year in review

As you may know, at Open Book Publishers, we ensure that we do not need to charge authors a mandatory Open Access fee thanks to our mixed model of funding. The support we receive from libraries is vital to help us continue our work: the income from our Library Membership Programme constitutes a third of our annual revenue.

Since the membership was launched in 2015, Open Book Publishers has been steadily increasing the number of publications per year (with a growth of 275% since the first year of our membership), we have worked on the development of open-source infrastructure to lower the technical and financial barriers for others who wish to publish OA and our book accesses have increased 310.28% - all while our membership fee remained unchanged.

For this reason, and to reduce the importance of grant funding to our model and to work towards a more sustainable model, last February we introduced our new library membership programme. Open Book Publishers' new membership allows institutions to choose their pricing tier and support OBP in agreement with their individual funding and subscription capacities. Our tier system consists of recommended prices that align with each institution's size and budget. We don't impose a tier on any institution, but we encourage institutions that are able to sign up to their suggested tier or those that would like to join a higher tier to make their selection accordingly.

We are delighted to announce that, since implementing this new membership model, around 70% of our library members have renewed at the assigned tier and 85% of our new members have joined at the suggested tier.

We are grateful for the support received from all our library members and, as always, we welcome your feedback, suggestions or questions about what we're doing—and what we could be doing—to push forward open-access book publishing.
---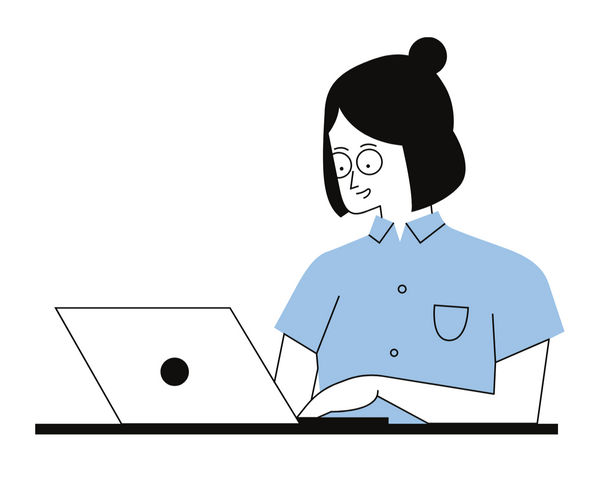 Latest Reviews

Points of Contact: The Shared Intellectual History of Vocalisation in Syriac, Arabic, and Hebrew by Nick Posegay

The book is an amazing example of a cross-cultural and cross-linguistic study. It is a rich resource not only for philologists and those interested in the history of linguistics, but for all Judaic, Syriac, and Islamic scholars who approach the cultures and religions of the early medieval Middle East with a view to their intrinsic interconnectedness and complexity.

Yuliya Minets
Hugoye: Journal of Syriac Studies, vol.  25, no. 2, 2022.

Who Saved the Parthenon?: A New History of the Acropolis Before, During and After the Greek Revolution by William St Clair

This rich and rather odd volume is the product of decades of collecting, compiling, and ruminating on the part of the literary scholar and champion of open access publishing, William St. Clair. Sadly, St. Clair died before he could complete manuscript revisions, and thus we owe thanks to his admirable editors, David St. Clair and Lucy Barnes, for weaving together the pieces and making this valuable, if rather anarchic, book available to readers by open access [...] In the end, I am not even sure that St. Clair is particularly pleased that the Parthenon was saved (and he certainly does not seem to like the historically cleansed, Pausanian look of the acropolis today, though he does praise the new acropolis museum for restoring some of the site's history). In saying that today the built heritage "is at least as influential as words in constituting and changing mentalities," he goes so far as to suggest that monuments should be seen not as incidental to conflicts, but as among "the causes and the weapons" (658). Was the 'saving' of the Parthenon simply a Frankish quest, whose consequences included the sacrificing of many Greek and Turkish lives and the stripping of the monument of the very history that has made it meaningful? Are the Franks the very people from whom the Parthenon has needed saving? This book poses these uncomfortable questions.

Suzanne Marchand
Bryn Mawr Classical Review, 2023.

[The book] is a work of devotion which touches on almost everything – from water sources to wildlife – that anyone interested in the Parthenon's recent past could want. A fine scholar and a man of great sensitivity to the strange paradoxes of history, William St Clair surely knew what he was doing when he wrote a book that bolsters the case for the marbles' restitution to Greece by attributing their survival to the Ottomans.

Mark Mazower
"Give them back! Did the Ottomans preserve the Parthenon and Elgin wreck it?". The Times Literary Supplement, no. 6254, 2023.


The Diaries of Anthony Hewitson, Provincial Journalist, Volume 1: 1865–1887 by Andrew Hobbs

The diaries have been meticulously edited by Andrew Hobbs, who has also written a valuable and informative introduction which emphasises the importance of Hewitson in terms of wider social history […] as Andrew Hobbs highlights, we know next to nothing about how the provincial newspaper businesses functioned, or about the reporters who were, for obvious reasons, fundamental to news-gathering and its presentation. The Hewitson diaries are therefore a crucially important window into that largely closed world […] A particularly revealing aspect of the diaries is the picture which they give of family life […] Beyond that, the diaries give a valuable sense of how a thriving industrial, commercial and administrative centre functioned – the social and business life, the politics and legal affairs of Preston are vividly portrayed. The publication of these diaries (to be followed by a second volume) is to be welcomed […] It is a great achievement, made greater by the remarkable generosity of the publishing arrangements – to make it possible for us to access the text online and free of charge is a truly enlightened decision.

Alan Crosby
Lancashire Local History Federation Newsletter, vol. 42, 2023.

Auld Lang Syne: A Song and its Culture by M.J. Grant

[…] comprehensive, scholarly, but highly accessible […Grant] does brilliant work in finding examples from contemporary newspaper reports and correspondence to outline the ways and reasons for the adoption of the song as an assertion of goodwill, a gesture of parting […] and a symbol of the New Year.

David Francis
Folk Music Journal, vol. 12, no. 3, 2022.

Ecocene Politics by Mihnea Tănăsescu

This is a powerful book, examining knowledge theories that traditional, Western thought can no longer marginalize. This work should be on every academic's must-read list to advance current environmental dialogues.

L. L. Lovern
CHOICE Connect, vol. 60, no. 5, 2023.

A Philosophy of Cover Songs by P.D. Magnus

The book is philosophically rich, engaging, and loaded with illuminating examples. It is worthy of sustained scholarly attention, but also accessible enough for a general audience. It would be an excellent book to adopt in any undergraduate course (at any level) on aesthetics and the philosophy of art, or in any introductory philosophy course with units on those topics...

Brandon Polite
The Journal of Aesthetics and Art Criticism, vol. XX, no. XX, 2022.

Studies in the Grammar and Lexicon of Neo-Aramaic by Geoffrey Khan and Paul M. Noorlander

This volume is a fine contribution to Semitic linguistics, in its presentation of new data, new analyses and engagement with the general linguistic literature. Including significant contributions from both established Neo-aramaicists and relative newcomers, it demonstrates that the field of Neo-Aramaic continues to flourish, against the odds.

Eleanor Coghill
Brill's Journal of Afroasiatic Languages and Linguistics, vol. 14, 2022.